NEC EA232WMi review
NEC has released the successor to the much acclaimed EA231WMi that has been on our
recommendations list
since its introduction. The successor is called EA232WMi and comes with a new 23-inch IPS panel with LED backlight. It also features a resolution of 1920x1080 pixels, and a stand with wide ergonomic adjustability
But is EA232WMi an improvement compared to
EA231WMi
? And can it compare to Dell's popular IPS based monitors? Find out in this exclusive EA232WMi review on FlatpanelsHD. We will also include some comparison comments to the
Dell U2410
.
Subscribe to our Newsletter, RSS feed or twitter to receive notice when new reviews are online.
| | |
| --- | --- |
| Size: | 23" Wide |
| Resolution: | 1920x1080 |
| Response time: | 14 ms |
| Contrast ratio: | 1000:1 |
| Brightness: | 270 cd/m2 |
| Color support: | 16.7 million colors |
| Signal processing: | 8 bit for each color |
| Viewing angles (H/V): | 178/178 |
| Dot pitch: | 0.265 |
| Panel type: | IPS panel with LED |
| | |
| Wall mounting: | |
| Dimensions (HxWxD): | 32.9cm x 55.0cm x 7.1cm (without stand) |
| Weight | 7.5 kg |
| | |
| Built-in speakers: | |
| | |
| Ergonomics | |
| Tilt | |
| Swivel | |
| Height | |
| Pivot | |
| Inputs | |
| VGA | |
| DVI | |
| DisplayPort | |
| Audio (type) | |
| S-video | |
| Composite | |
| Component | |
| HDMI | |
| Other | 4 port USB hub |
Price and retailer:

Our first impressions
EA232WMi looks very similar to the older EA231WMi model. It has a black matte bezel and a round stand. Buttons are located at the lower right corner and NEC has also integrated a small joystick to navigate in menus.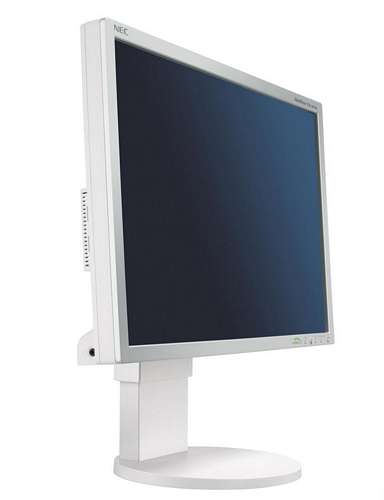 The stand has different adjustments and you can basically adjust the monitor to whatever working position you prefer. The stand allows you to adjust height, tilt, swivel and pivot. The monitor feels solid and even though the tilt function requires two hands, we are very pleased with the possibilities.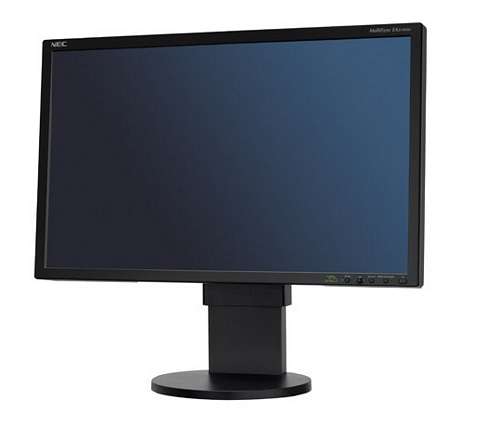 NEC EA232WMi has a LED backlight it's not exactly slim.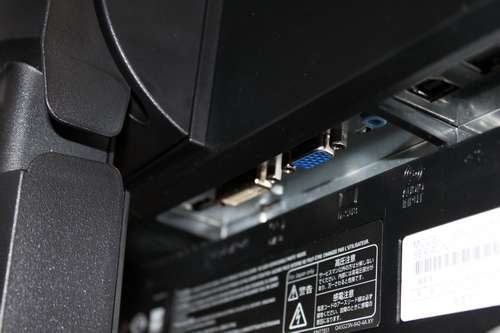 DVI, D-SUB (VGA) and DisplayPort inputs have been integrated at the back of the monitor. EA232WMi also has a 4-port USB hub with two on the back and two on the side and a cable arrangement system at the back of the stand.
In the menus NEC has provided the following picture setting options; brightness, contrast, eco mode, auto brightness, and DV mode.
You can also choose from these picture presets: 9300K, 8200K, 7600K, sRGB, 5000K, and Native.
Energy Consumption
You can see our energy measurements on NEC EA232WMi below.
| | | |
| --- | --- | --- |
| | | |
| Standby | 0.5 W | 0.5 W |
| PC | 34.9 W | 22.9 W |
After calibration I measured energy consumption on NEC EA232WMi to 22,9 W. Compared to other IPS/VA based monitors with Full HD panels EA232WMi has a low energy consumption, thanks to the energy effective LED backlighting system. The old
EA231WMi
consumed 30.4 W after calibration.
Also, please note that LCD monitors uses less power after calibration. This is common on flat panel displays because many picture parameters are reduced during calibration.
Test tools
We use the DVI input for testing. The graphic card is Geforce GTX260.
The monitor has been measured and calibrated with a LaCie Blue Eye Pro. We also examine the monitor with the help of our
monitorTest
. And finally we test the monitor in games, movies etc.
Picture quality on NEC EA232WMi
Out-of-box picture quality on NEC EA232WMi is measured below in the picture preset called Native.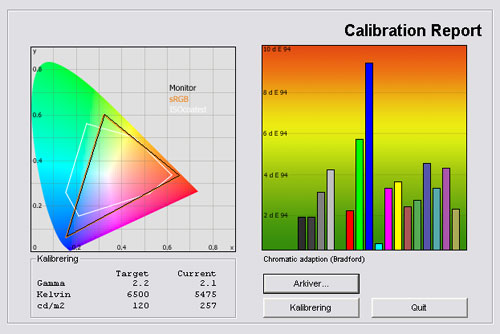 The graph says this:

The number on the left is the delta value. Delta is a difference between two factors; here it's the difference between the measured color on the panel and the actual color that is our target.


A delta value lower that 2 results in a visible deviation from the actual color.

A delta value over 4 or 5 results in wrong colors.

A delta value between 1 and 2 results in precise but not perfect colors.

A delta value lower than one results in almost perfect colors. The target is 0.

Everything between 0 and 1 is barely visible to the human eye.
The standard preset is called Native and picture accuracy is fair but not 100 % accurate. Gamma is slightly off and rises from 1.88 in the bright shades to 2.15 in the dark shades which means that bright colors are a bit too bright. We aim for 2.2 gamma.
The color temperature is slightly too low resulting in too warm and reddish pictures. Deviation in color is average.
I changed to the sRGB preset on EA232WMi and took a new measurement. The sRGB presets are often considered the most accurate on monitors and therefore we often advise users to use the sRGB picture preset. Below you can see the result of the sRGB measurement.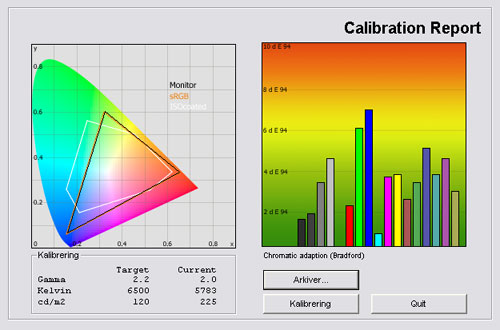 The sRGB preset is almost identical. Gamma is still a bit off and the color temperature is a bit too low. The result is definitely not bad and quite good for a monitor in this price range, but it's not perfect either, and the older
EA231WMi
had a slightly more accurate picture quality in the sRGB preset.
I wanted to improve color accuracy and below I have calibrated EA232WMi.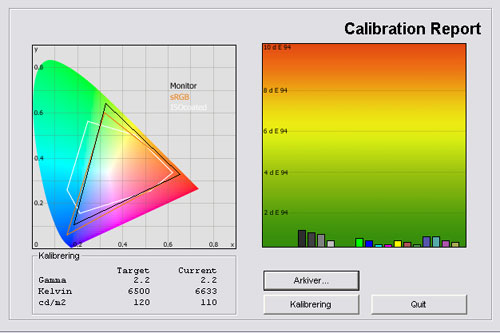 After calibration we got a near-perfect result in terms of color accuracy. As you can see in the graph all colors are below 1 on the vertical axis, which means that color deviations are not visible to the human eye.
Gamma is also very close to our 2.2 target with only small 0.03 deviations and color temperature is close to our 6500 Kelvin target which means that images on the screen are neither too reddish nor too bluish.
My calibrated settings are:
| | |
| --- | --- |
| | |
| Picture preset: | 3 |
| Brightness | 55 |
| Contrast | 50 |
| Eco mode: | Off |
| Auto brightness: | Off |
| RGB: | Custom |
| R: | 85,4 |
| G: | 79,7 |
| B: | 96,9 |
I lowered the brightness to around half and deactivated the two dynamic brightness systems. I also did a RGB (red, green, blue) calibration to improve color accuracy.
In the following section I want to continue with a picture quality discussion. And I started by examined color gradation. Accurate colors are important but it's also important to be able to distinguish the many colors from each other on a screen. We use smooth gradient to examine color gradation and aims for perfectly smooth gradients without "bands".
NEC EA232WMi has good color gradation without any real issues. Darker colors are also distinguished which is great since many monitors struggle here. The bright colors are reproduced to near-perfection. All in all this is a great example of proper color gradation created with a relatively cheap IPS panel and an internal color management system.
The panel in EA232WMi has a 16:9 aspect ratio which also means that the resolution is 1920x1080 pixels. Compared to Dell U2410 with 1920x1200 pixel resolution, that I had standing next to EA232WMi, I did notice a difference. The 120 extra pixels in height are noticeable and personally I prefer the 16:10 aspect ratio for most work on a desktop PC monitor.
NEC EA232WMi has a matte LCD panel that prevents reflections from windows and other light sources. The matte bezel also prevents reflections effectively which is great when you consider that most newer monitors today come with glossy bezels.
Some users complain about the crystalized surface on IPS panels and we noticed that EA232WMi does not stand out from most other IPS based monitors today. It has the same grainy look on white colors. Some people notice this; other people never notice. If you have worked in front of an IPS monitor before without noticing it, you will not notice it on EA232WMi either but it's definitely there.
| | | |
| --- | --- | --- |
| | Out-of-Box | After calibration |
| Black level | 0.29 cd/m2 | 0.18 cd/m2 |
| Brightness | 257 cd/m2 | 110 cd/m2 |
| Contrast ratio | 886:1 | 611:1 |
Contrast ratio +/- 50
After calibration I measured a black depth of 0.18 cd/m2 which is slightly worse than the old
EA231WMi
. It's on par with the
Dell U2410
that we measured to 0.18 cd/m2, too.
Shadow detailing is good and I was able to distinguish every step in the darker grey tones. This is great and dark movies scenes and dim games are reproduced with a high level of detail.
Lastly I examined the brightness homogeneity on EA232WMi to check for backlight bleeding or clouding issues.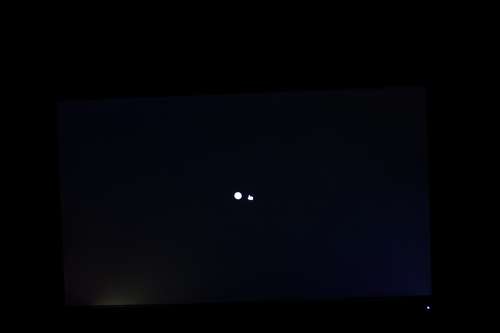 Unfortunately my EA232WMi sample had some heavy bleeding in the lower left corner that was also distracting when watching movies and playing games. This is a shame and not a typical issue with NEC monitors – we saw no such thing on EA231WMi without LED - and I hope my sample has worse bleeding than the typical EA232WMi monitor. We hope to hear from any buyers after this review with their experiences, so remember to check in to the EA232WMi forum thread.
Response time and games
NEC
EA231WMi
was a decent monitor for gaming and movie watching and I hoped to see the same performance from EA232WMi.
Response time on EA232WMi is generally fast and although I did see some blurring and trailing on fast motion the result is very similar to the other IPS based monitors in this price range such as
Dell U2311H
and the old
EA231WMi
. Response time is also consistent; meaning that the amount of blurring in dark color shifts and bright colors shifts is the same.
I saw no overdrive trailing either. Overdrive trailing is the type of motion artifact where you see a white halo around moving objects. This is especially important for gamers.
All in all EA232WMi is a decent monitor for gaming and movie watching in terms of response time. It cannot compare to the 120 Hz TN based gamer monitors but it's on par with some of the other popular IPS monitors, including the EA231WMi that it replaces.
Viewing angles
The viewing angles are wide and color intensity is not affected much form angles. The vertical angles are bit worse than the horizontal angles but not much.


The black color (and contrast), on the other hand, is greyer from angles. From 40+ angles the black color on the panel gets a purple tint and black level intensity is also reduced.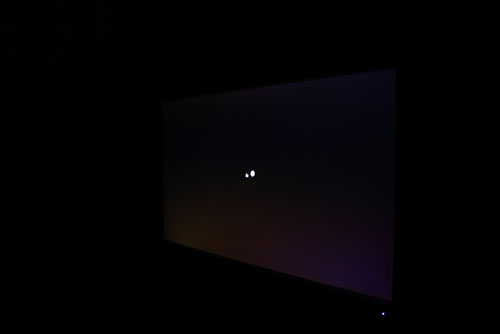 This is common on IPS panels but in a side-by-side comparison to the
Dell U2410
it's evident that NEC has difficulties maintaining black depth from angles.
Conclusion
NEC EA232WMi has many similarities to the
predecessor EA231WMi
. It has the same ergonomic stand with height, tilt, swivel and pivot adjustment and the same joystick for easy navigation in the on-screen menus. The bezel is matte which is a plus in my book, too.
The out-of-box picture quality was fairly accurate and so was the sRGB mode but we needed to tweak a few settings in order to get a better result. EA232WMi has good color gradation and shadow detailing, too. The panel is also fast enough for most gaming and movie watching but EA232WMi is not on par with dedicated 120 Hz gamer monitors with TN panels.
In terms of picture quality NEC EA232WMi is very close to the EA231WMi and the IPS panel obviously has the same characteristics. The new EA232WMi also has the same downside with weak black level reproduction and actually it's a bit weaker than on the old version. My real concern with EA232WMi, however, is not the weak black level because we have come to expect that from IPS based monitors, but instead the backlight bleeding in the lower left corner. We might have been unlucky with our sample but I'm worried that it could be a general trend with the new IPS panel with LED, and we hope to hear some feedback from some of you guys if you decide to go for the EA232WMi.
All in all EA232WMi is hardly an improvement over EA231WMi. Energy consumption is definitely lower but black level and light homogeneity is worse. Besides the bleeding, EA232WMi is a recommendable monitor but we had expected some progress in terms of picture quality.
Price and retailer:

| | | |
| --- | --- | --- |
| | | |
| Picture quality | Black level | Graphic work |
| Shadow detailing | Backlight bleeding | Photography work |
| Ergonomic stand and matte bezel | 16:9 aspect ratio | Discerning users |
NEC EA232WMi debate
For questions and comments please visits this thread in our forums:
NEC EA232WMi debate