We have already reviewed the
120 Hz BenQ XL2420T
model, so what's new here? Well, BenQ has decided to release a new version of the monitor, without changing the model name in Europe. It is a confusing strategy, but it offers some interesting updates in the form of 144 Hz (instead of 120 Hz) and a flicker-free LED backlight. The new 144 Hz monitor is called XL2420TE in the US, but is still named XL2420T in Europe.
This is not a full review, and we will not go through all details, but instead focus on the updates from the first revision of the monitor. So, is 144 Hz a worthwhile update from 120 Hz? And is the flicker-free panel as good as in the
flicker free Eizo
monitors that we have already tested? Join us to find out.
Price and retailer:

| | |
| --- | --- |
| US retailer | UK retailer |
| | |
| | |
| --- | --- |
| Size: | 24" Wide |
| Resolution: | 1920x1080 |
| Response time: | 1 ms (g2g) |
| Contrast ratio: | 1000:1 |
| Brightness: | 350 cd/m2 |
| Color support: | Up to 16.2 million colors |
| Signal processing: | 6 bit+FRC for each color |
| Viewing angles (H/V): | 170/160 |
| Dot pitch: | 0.276 |
| Panel type: | 120 Hz TN panel |
| | |
| Wall mounting: | |
| Dimensions (HxWxD): | 57.1cm x 51.6cm x 14.9cm (with stand) |
| Weight | 6.1 kg |
| | |
| Built-in speakers: | |
| | |
| Ergonomics | |
| Tilt | |
| Swivel | |
| Height | |
| Pivot | |
| Inputs | |
| VGA | |
| DVI | |
| DisplayPort | |
| Audio (type) | (headphone jack) |
| HDMI | (2xHDMI) |
| Other | USB hub |
Our first impressions
The new 144 Hz XL2420TE looks exactly like the old 120 Hz version, so see our
first XL2420T review
for some more details.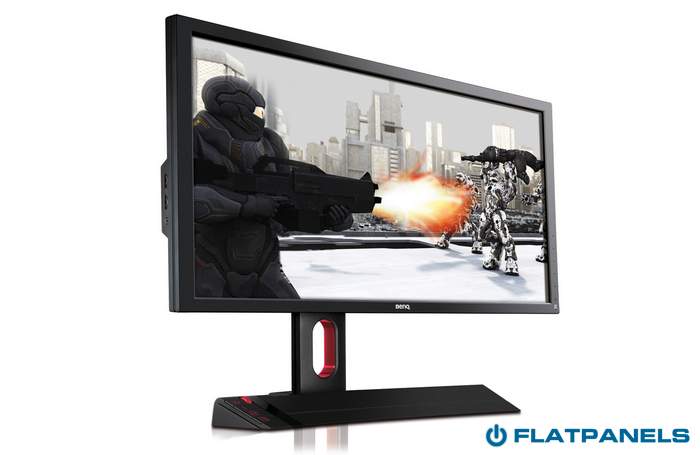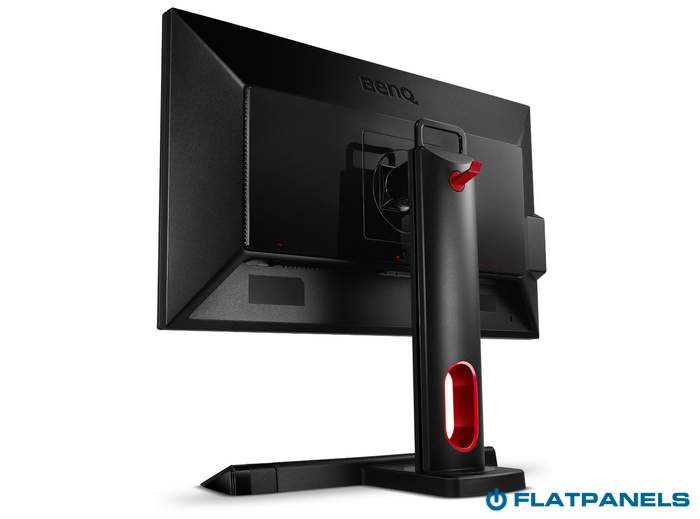 Energy consumption
| | | |
| --- | --- | --- |
| | | |
| Standby | 0.2 W | 0.2 W |
| PC | 28.3 W | 17.2 W |
Power consumption is actually a bit lower than on the previous model, so that it great. Power consumption of a PC monitor generally goes up and down with the backlight intensity. That is why it is higher in the pre-calibrated state. Stand-by consumption is 0.2 Watt.
Test tools
We use the DVI input for testing. The graphic card is a Geforce GTX260.
The monitor will be measured and calibrated with a LaCie Blue Eye Pro calibrator. We also examine the monitor with the help of our
monitorTest
tool as well as in real use with games, movies etc.
Picture quality on BenQ XL2420T
Below you see our measurements in the out-of-box settings (FPS1 mode).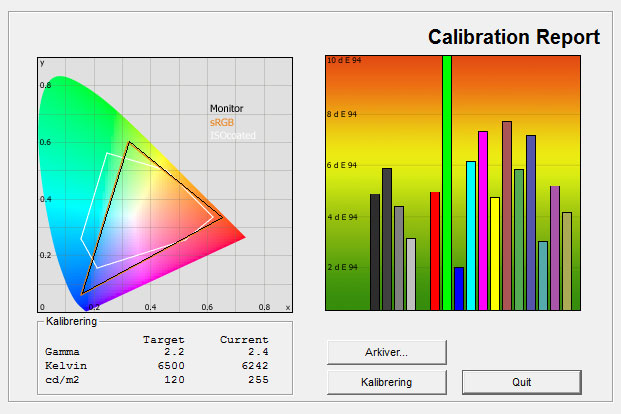 The graph says:

The number on the left is the delta value. Delta is a difference between two factors; here it's the difference between the measured color on the panel and the actual color that is our target.


A delta value higher than 2 results in a visible deviation from the actual color.

A delta value over 4 or 5 results in wrong colors.

A delta value between 1 and 2 results in accurate but not perfect colors.
A delta value lower than 1 results in almost perfect colors. The target is 0.

Everything between 0 and 1 is barely visible to the human eye.
As expected the out-of-box result is not great. As typical for gaming monitors, colors are generally overboosted, but the color temperature is actually not that bad.
We saw slightly better color accuracy on the XL2420TE compared to the previous model, but we still feel that gaming monitor manufacturers should stop pushing gamma to boost colors and just give us accurate colors. Even gamers prefer accurate colors. The job to create colors that pop out of the screen is the game studios' – not the monitor makers'.
We switched to the sRGB mode and took a new measurement.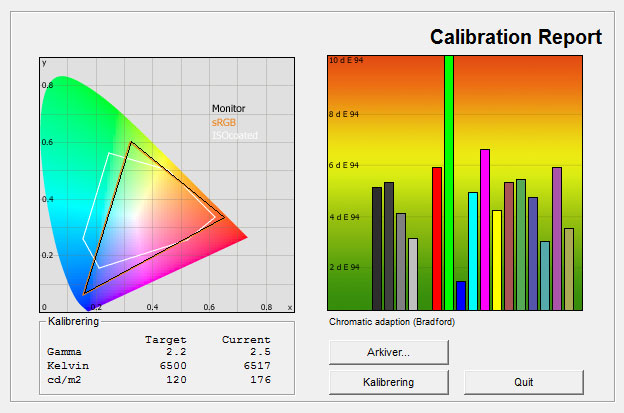 The sRGB profile in the new XL2420TE is also largely identical to what we saw in the 120 Hz version. It has slightly more accurate colors, but slightly worse grey tone reproduction. BenQ seems to use the same trick with a too high gamma for bright colors to boost color intensity. However, the color temperature is closer to our 6500 Kelvin target, which is a good thing.
Lastly, we calibrated the monitor.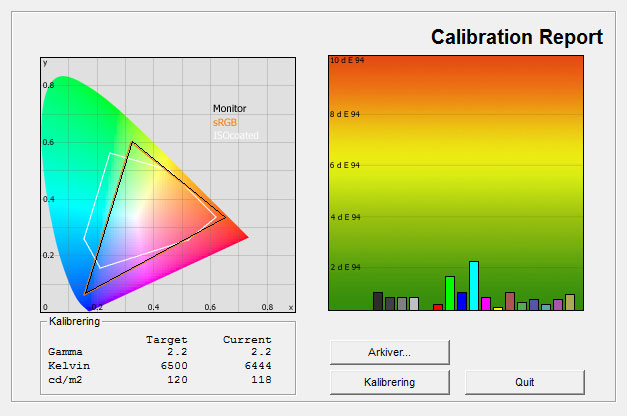 After calibration the monitor performed admirably, which goes on to show that it can be done. Gaming monitors do not necessarily have to reproduce overboosted and incorrect colors. Again, the new version acts almost similarly as the old one, with the same setting options in the menu. We pretty much followed the same calibration procedure for this 144 Hz version.
The only major difference is that we had to set brightness a bit higher, which can have something to do with the modification BenQ has made to the LED backlight in order to make it flicker free. But XL2420TE can still go from very low brightness values to very high brightness values, just like the old one.
Our calibrated settings are as follows.
| | |
| --- | --- |
| | |
| Picture preset: | Standard |
| Brightness | 51 |
| Contrast | 50 |
| Sharpness: | 5 |
| Gamma | Gamma 2 |
| Color temperature: | User mode |
| R | 98 |
| G | 89 |
| B | 94 |
| AMA | On |
| Instant Mode | On |
The Instant Mode and AMA settings are set to "On" (there are two options, one a bit too extreme) in our table. However, the AMA mode introduces some visible overdrive trailing (more on that in the gaming section), so you might prefer to have it off for office work.
Color performance from the 144 Hz version is largely identical to the 120 Hz version and decent for a gaming monitor, but still held back by the TN panel that cannot match IPS and VA panels in color accuracy and gradation. There is not much to add here, since the 144 Hz also utilizes the same resolution. It also offers the same display modes that allow you to run for example a 1280x720 resolution natively on the panel with black bars around the picture.
The only significant difference compared to the old version is the flicker free LED backlight. We used our testing methods described in
"LED monitors can cause headaches due to flicker"
article. We were able to confirm that the 144 Hz version is indeed flicker free in all brightness steps. That is great and beneficial if you are sitting in front of the monitor for many hours per day, or gaming for many straight hours. This is the most important improvement over the old 120 Hz version, and if you are considering a new monitor we would definitely recommend that you go with a flicker free version.
Below we have measured black depth and brightness.
| | | |
| --- | --- | --- |
| | | |
| Black depth | 0.39 cd/m2 | 0.21 cd/m2 |
| Brightness | 255 cd/m2 | 141 cd/m2 |
| Contrast ratio | 654:1 | 671:1 |
Contrast ratio +/- 100
Black depth and contrast performance is more or less comparable to the previous version,
XL2420T
, so no big surprises here. XL2420T still struggles to offer the same black levels as VA-based monitors, such as the
Eizo FG2421
because of its TN panel, but that is true for all TN-based gaming monitors out there.
Shadow detailing is also on par with the previous version.
Lastly we examined light homogeneity to check for potential clouding or backlight bleeding issues.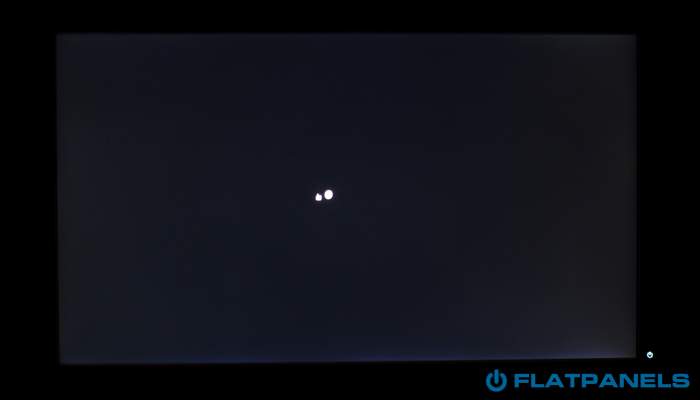 As you can see our XL2420T sample had some bleeding at the bottom of the panel and some sporadic clouding. This is very typical for monitors with cheap TN panels, but during gaming it was rarely distracting and in no way critical to the experience.
Response time and gaming
As mentioned several times, this monitor is the successor to the
120 Hz XL2420T
. In the US this new 144 Hz model is called XL2402TE, but in Europe it is still called XL2420T, just the previous version. Look for the 144 Hz / flicker free version (there is a sticker/label on the box); then you are sure to get the new one.
First off, we wanted to examine the difference between 120 Hz and 144 Hz. We have several 120 Hz monitors standing in our testing room so we could do some side-by-side testing. We used test patterns as well as real games.
Throughout the sessions we found the improvement from 144 Hz to be minimal, almost negligible during gaming. We were able to spot a tiny difference in some of our stress tests, but whereas the step from 60 Hz to 120 Hz monitors was a huge and important step for gaming on LCD monitors, the step from 120 Hz to 144 Hz is pretty insignificant. If you already own a 120 Hz monitor we see no reason to upgrade to a 144 Hz version.
In terms of response time and blurring XL2420TE still has some motion blurring during very fast motion, like all gaming LCD monitors, but it is definitely in the low end, and blurring might actually have been reduced a bit compared to the 120 Hz version. This has nothing to do with the higher refresh rate, but simply the result of an improved panel (or a more mature production). This also means that it is still one of the best performers amongst LCD monitors today.
In recent time there has been talk about utilizing the Lightboost technology on 120 Hz monitors to eliminate motion blur, and XL2420TE is compatible with the system. Others have already detailed how the system works, so we will not go into that here, but if you want to experiment with it we believe that putting XL2420TE in in 120 Hz mode with Lightboost activated offer a much more significant effect than using 144 Hz with no Lightboost. Just be aware that Lightboost will affect color accuracy negatively.
Lastly, we measured input lag and found it to be effectively 0 ms. There were some slight deviations in measurements, but input lag is incredibly low and should not be cause for concern. However, it has some overdrive trailing in both AMA settings that is visible from time to time during game. It is not critical, but the discerning eye will notice it.
All in all BenQ XL2420TE is an excellent gaming monitor. We saw very little improvement from 144 Hz over 120 Hz, and cannot recommend to upgrade your monitor based on that, but all the other factors are excellent. The only thing that we are missing is better and more accurate color reproduction and deeper blacks while gaming, but unfortunately that is a side-effect of the TN panel type. At the moment only the
Eizo FG2421 with VA panel
offers the best of both worlds.
Viewing angles
The viewing angles are not very wide and identical to what we saw on the
120 Hz version
. Color are washed out from outer angles, and the vertical angles are very narrow, possibly a bit worse than on the 120 Hz version. As always, looking at a TN panel from below results in inverted colors.


Conclusion
BenQ's 144 Hz XL2420TE is the successor to the
120 Hz XL2420T
, and even still carries the same model number in Europe. It looks exactly like the old 120 Hz version with an asynchronous base design and a matte black frame with touch buttons and red details on the back side. It still offers great ergonomic adjustability and it also packs all the necessary inputs, including DVI, 2xHDMI, DisplayPort, D-SUB (VGA), a USB hub, and a headphone jack.
BenQ XL2420TE is an improvement over the old 120 Hz version – but not because of 144 Hz
The real changed are underneath the surface. It now uses a 144 Hz TN panel that is also flicker free. Throughout our testing we found little differences in color, black, light homogeneity, and general picture quality performance compared to the old version – only minor variations. The same is actually true for the jump from 120 Hz to 144 Hz, which is almost negligible. The jump from 60 Hz to 120 Hz was significant, but we see no reason to upgrade from your current 120 Hz monitor to a 144 Hz monitor. You might instead try to experiment with Lightboost + 120 Hz on XL2420TE, as it is supported and offers a great gaming experience.
Instead, the most significant difference between the new and old is actually the flicker free panel in XL2420TE, which is a great thing if you spend many hours in front of the monitor. It is something we appreciate, and combined with XL2420TE's general gaming performance we still consider it one of the absolute best gaming LCD monitors out there. We only wish BenQ would start using
VA panels
in their gaming monitors, too.
Price and retailer:

| | |
| --- | --- |
| US retailer | UK retailer |
| | |
Picture quality is assessed as overall picture quality, including color reproduction, contrast, viewing angles etc.
Features is an evaluation of the built-in functionality how useful it are, as well as sound quality and ports
Speed is an evaluation of how good the monitor is for gaming, meaning response time, Hz, input lag, overdrive etc
Ergonomics is an evaluation of adjustment options, stability, power consumption, degree of flicker etc.
Total score weighted as: 40% Picture quality, 25% Features, 25% ergonomics and 10% Speed.
All scores are calculated based on a moving maximum target, defined by what we currently consider the best on market. It is then presented as a percentage. This means that a score will fall over time as new and better monitors set new standards. This allows you to compare scores across years. A score of 100% in a given category means that it is consider the best available monitor in this category to date.
---
144/120Hz
Low input lag
Flicker-free panel
Good ergonomic adjustment options
---
Out-of-box settings
Viewing angles
Black level
---