Two weeks ago, LG
promised
to improve the HDR console gaming experience by pushing out a firmware update to reduce input lag. The update has arrived for owners of C6, E6 and G6 OLED TVs in the US, according to report by
HDTVTest
.
Update 15.12.2016: The new software is now also available in Europe. Check the TV menu or download it for installation via USB from your local LG support side.
HDR input lag update
PlayStation 4 and Xbox One S both support HDR gaming, which has presented new challenges to TV makers. Sony and Samsung had already issued firmware updates to reduce input lag in HDR mode, and now LG has followed suit after frustrated owners
started a petition
.
Gamers can now engage a "HDR Game" mode when playing a HDR-enabled game such as Uncharted 4, The Last of Us or Forza Horizon. The game mode reduces HDR input lag to around 34 ms, according to HDTVTest's measurements. That is down from 50-60 ms before the update. This figure should satisfy most users even if it is still slightly higher than Samsung's figures in the 20-25 ms range.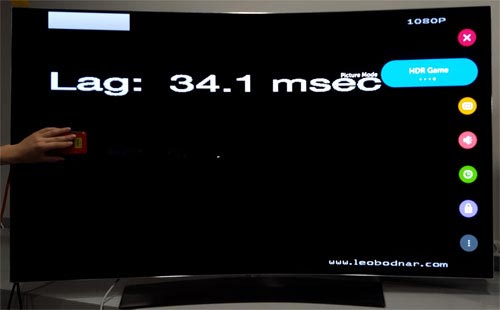 The update has version number 04.25.55 and is currently only available in the US. It applies to the 2016 C6, E6 and G6 OLED models. The B6 is not included in this release because it runs on a different chipset. It is not clear if LG is planning to release a separate firmware update for B6 later.
Even if LG needed a little push to get there this obviously great news for owners of LG's 2016 OLEDs.
-
Source: HDTVTest